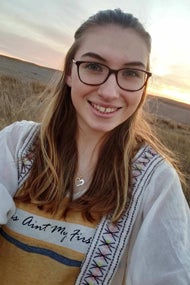 This summer Slope Electric Cooperative will send Callen Kruger to Washington, DC to participate in the 2019 Rural Electric Youth Tour. Callen competed in an essay-writing contest to earn this honor and the opportunity to spend a week learning about the U.S. government and rural electric cooperatives. Callen is the daughter of Kelly & Tracy Kruger of Regent ND.
Callen will join the other participating North Dakota and Montana students in an all-expense paid trip scheduled for June 2019. The delegation will experience tours of historic sites, attractions and congressional offices in the Washington, DC area.
Congratulations to Callen! Slope Electric is proud to sponsor a young person on this 2019 tour.