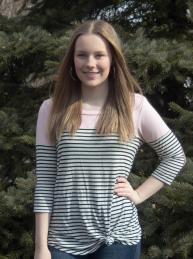 Youth Tour cancelled for 2020
The annual Electric Cooperative Youth Tour, scheduled this year from June 20 to 26, was cancelled the middle of April due to the Covid-19 pandemic.
Jim Matheson, chief executive officer for the National Rural Electric Cooperative Association, said, "There will certainly be a void in Washington, D.C., without the 2020 Youth Tour."
Josie Brennan, a home-schooled sophomore from Bowman, won Slope Electric Cooperative's essay contest this spring and had planned on going. She is the daughter of Slope members Gary and Lana Brennan.
We understand the trip was cancelled to protect the students, and we support the decision. We also know Josie was looking forward to traveling to our nation's capital and exploring museums, memorials and monuments for one amazing week.
Slope Electric has offered to send Josie on the tour next year instead, and she accepted. While she has to wait a year, Josie will still get to take the trip she earned and get a hands-on lesson in history.
Josie, thank you for your understanding! An employee with Eats N Treats and a volunteer for Hope and Healing Therapeutic Riding, you are already a student leader in your community. We are proud to have such a motivated and accomplished student representing Slope Electric Cooperative!