Mission Statement
We are a service orientated cooperative dedicated to enhancing the quality of life for our members.

We are committed to provide our membership with reliable electric and superior customer service by providing quality service and products that are sensitive to our member's needs. We are aggressive in promoting prudent load growth which will benefit the cooperative's financial integrity and further benefit the membership.

We are committed to promote and support industrial and economic development efforts in the service area. We recognize our employees as an important asset of the cooperative. We are committed to provide an atmosphere where all employees can perform at their maximum potential. Like other cooperatives, Slope Electric is "Owned By Those We Serve."
Service Area
Slope Electric Cooperative, Inc., serves four counties in southwest North Dakota: Adams, Bowman, Hettinger and Slope.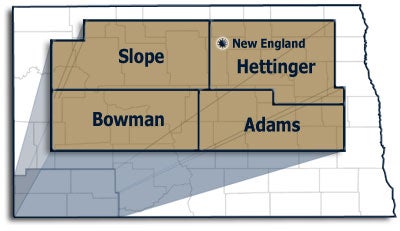 24 Hour Phone Service
During normal business hours, you are able to talk to a Slope Electric employee. After hours, the same phone numbers are used to reach us, however after hours you will reach a voice automated phone system of Basin Electric Power Cooperative in Bismarck. Basin operates the 24-hour dispatch service for Slope Electric.
The numbers to call, day or night, are 579-4191 or 800-559-4191.
All after-hour calls will be answered immediately by a voice automated system.
The automated system allows you to report an outage quickly by giving your phone number or a meter number.  You can also report meter readings by leaving a message with your name, account number, telephone number and meter reading.
News
$1000 Basin Electric Scholarship
Braden Rayhorn earned the $1000 Basin Electric Cooperative scholarship. He is the son of Rob and Amy Rayhorn of New England. Braden plans to attend NDSU and major in computer science.
$1000 Basin Electric Scholarship
Braden Rayhorn earned the $1000 Basin Electric Cooperative scholarship. He is the son of Rob and Amy Rayhorn of New England. Braden plans to attend NDSU and major in computer science.
$500 West Dakota Utility Services Scholarship
Jonah Candrian, son of Robert and Lisa Candrian, from Regent earned the $500 WDUS scholarship. Jonah plans to attend BSC and study Mechanical maintenance.
$500 3C Construction Scholarship
Nicklaus Rettinger, son of Perry and Brenda Rettinger, from New England earned the $500 3C Construction scholarship. Nick plans to attend Mitchell Technical Institute (MTI) in Mitchell, S.D., and enroll in the electrician program.
Slope Electric $500 Scholarship Winners
Bowman County School
Meggie Fischer, daughter of Leonard and Nancy Fischer. Meggie plans to attend NDSU and major in veterinary technology with a minor in equine science.
Hettinger Public School
Jarad Mattis, son of Scott and Billie Mattis. Jarad plans to attend NDSU and major in general agriculture.
Lemmon Public School
Aubrey Weishaar, daughter of Shawn and Sarah Weishaar. Aubrey plans to attend SDSU and enroll in the agricultural biotechnology program.
Mott-Regent Public School
Dalton Miller, son of Lynn and Melanie Miller. Dalton plans to attend the NDSCS and pursue a career in plumbing.
New England Public School
Victoria Jalbert, daughter of Brandon and Constance Jalbert. Victoria plans to attend BHSU and pursue a career in business/marketing.
Scranton Public School
Elizabeth Bartholmy, daughter of Roger and Joanne Bartholmy. Elizabeth plans to attend BSC and enroll in the pre-veterinary program.
This summer, Slope Electric Cooperative will send Emma Honeyman to Washington, DC., to participate in the 2018 Rural Electric Youth Tour. Emma competed in an essay-writing contest to earn this honor and the opportunity to spend a week learning about U.S. government and rural electric cooperatives. Emma is the daughter of Gary and Tia Honeyman and is a student of Mott-Regent Public School.

Emma will join the other participating North Dakota and Montana students in an all-expense paid trip scheduled for June 2018. The delegation will experience tours of historic sites, attractions and congressional offices in the Washington, DC area.

Congratulations to Emma! Slope Electric is proud to sponsor a young person on this 2018 tour.
Mark Your Calendars!!
Please join us at YOUR Annual Meeting
Thursday, June 6, 2019
New England High School
New England, ND
Agenda:
Registration: 4:45 PM
Dinner: 5:00 - 5:45 PM
Business Meeting:6:00 PM
Other Highlights:
Door Prize Drawings
Reports on 2018 Operations
Operation Roundup Report
Presentation of Scholarship & Youth Tour Winners
Grand Prize Drawing
2019 Director Positions Available:
Bowman County
Adams County
Hettinger County
Members can also be nominated by filing a petition with 15 signatures. Filing must be done at the Slope Electric office on or before 30 days prior to the annual meeting. Members can also be nominated from the floor at the annual meeting. This method means your name will not be preprinted on the ballot, but it can be written in by your supporters.
Please come to the annual business meeting to cast your vote.
2018 Annual Report
October is Breast Cancer Awareness Month
Everyone likely knows someone touched by this devastating disease. Our employees are wearing pink throughout the month to bring awareness and offer our support.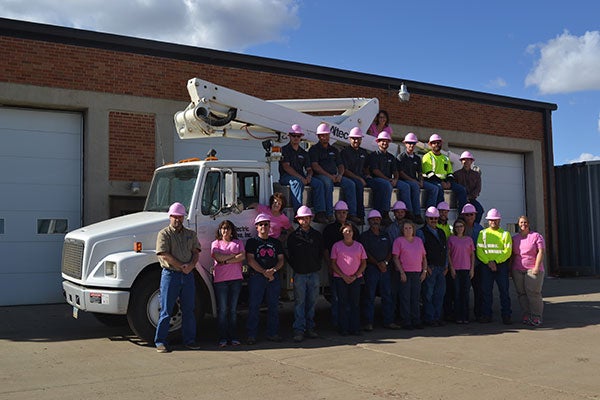 Requirements by credit card companies may affect you.
Due to security breaches, credit card companies are requiring tighter security to protect personal information.  The Payment Credit Industry (PCI) has implemented new requirements for credit card payments that will impact the way Slope Electric Cooperative accepts credit card payments. 
Slope Electric personnel will no longer be able to personally accept credit card payments.   
Credit card payments can still be made, but instead of talking to a person at Slope Electric, you must utilize our Interactive Voice Response (IVR) system that is PCI compliant by calling 1-844-241-0261. 
When calling 1-844-241-0261 you will be able to choose prompts to check your accounts status, make a payment and update personal information pertaining to your account such as phone number, etc. 
Theodore Roosevelt Medora Foundation Offers Coop Members Discount Rates
TRMF has extended a great discount to all of our members! Call 1-800-MEDORA-1 and provide the discount code (TOUCH2018) for a 15% discount off the following reservations:
Tickets to the Medora Musical
Pitchfork Steak Fondue
Lodging at any of the following:

Bunkhouse Motel
Badlands Motel
Rough Riders Hotel

Bully Pulpit Golf Course
Members also receive 20% off at the Cowboy Hall of Fame by providing the discount code (TOUCH2018) at the door. Advanced reservations are not available.
To celebrate Co-op Month we had a random drawing of 3 members for a $100, $75 and $50 bill credit!
And the 2018 winners are:
Tyler Grosz - $100
Nathen Miller - $75
Richard Hintz - $50
Congratulations everyone!
Staff
Innovative Energy Alliance Cooperative
Donald Franklund - Co-General Manager/CEO
Travis Kupper - Co-General Manager/CEO
Alex Craigmile - Chief Financial Officer
Linda Peterson - Alliance Accountant II
Tiffany Gerving - Alliance Accountant I
Charlie Dunbar - Alliance Chief Information Officer
Adam Bloms - SCADA Administrator
Rob Kelly - Alliance Manager of Engineering Services
Trisha Samuelson - Alliance System Engineer
Taylor Van Dyke - Alliance Civil Engineer I
Darren Stastny - Alliance Safety Coordinator
Sarah Helbling - Human Resource Generalist
Carmen Devney - Communications Coordinator
Joe Volk - Transmission & Substation Maintenance Manager
Connie Miller Hill - Administrative Assistant
Office Personnel
LaWanna Wilhelm - Chief of Staff/Key Accounts Executive
Lynn Klein - Executive Assistant
Brooke Waltner - Bookkeeper
Darlene Herberholz – Plant Accountant
Line/Plant Personnel
Dean Volk - Operations Manager
Daniela Howie - Operations Coordinator/Consumer Representative
Rod Benz - AMR/SCADA Technician 
Andrew Sonsalla - Senior Engineering Technician
Jeff Boynton - Outpost Foreman
Lyle Kovar - Line Technician
Craig Turner - Line Technician
Christopher Backhaus - Line Technician
Cody Braaten - Line Technician
Dusty Hoff - Line Technician
Jon Lawhead - Line Technician
Mark Frank - Line Technician
Drew Madler- Line Technician
Brett Obritsch - Apprentice Line Technician