Because electricity is an invisible commodity, at times we all forget what it does for us and why our total electric bill is the size it is. When people pay their electric bill, they are paying for kilowatt hours that are consumed by all things electrical in their homes or businesses, such as appliances, computers, lighting, heating, etc.
Slope Electric Cooperative is committed to helping our members understand and manage their energy use wisely. We believe that in helping our members understand how these items affect their electric bill, they can better manage how your electric dollar is spent.
By managing your energy use wisely, you can reduce your household electric bills while helping to conserve natural resources and maintaining the quality of our environment. Slope has put together a number of resources to help answer your electric usage and safety questions. If we can be of further assistance, please feel free to contact us at (800) 559-4191 or (701) 579-4191.
At your Slope Electric Cooperative, member safety is important to us.
To avoid power disruptions, blinking lights, maintenance costs and service calls, never plant trees near overhead power lines. Mature trees can be no less than 25 feet from the path under and near power lines. Also keep shrubs and structures at least 30 feet from poles and other power line equipment that's located on the ground.
Preventing Electrocutions Associated with Portable Generators Plugged Into Household Circuits
When power lines are down, residents can restore energy to their homes or other structures by using another power source such as a portable generator. If water has been present anywhere near electrical circuits and electrical equipment, turn off the power at the main breaker or fuse on the service panel. Do not turn the power back on until electrical equipment has been inspected by a qualified electrician.
If it is necessary to use a portable generator, manufacturer recommendations and specifications must be strictly followed. If there are any questions regarding the operation or installation of the portable generator, a qualified electrician should be immediately contacted to assist in installation and start-up activities. The generator should always be positioned outside the structure.
Other Generator Hazards
Generator use is also a major cause of carbon monoxide (CO) poisoning. Generators should only be used in well ventilated areas.
Adding a bin site or additional load?
Safety regulations and proximity to overhead power lines should always be considered.
If you are considering a plan for a new grain bin or reconstruction of an existing bin's site, please contact Slope at 701-579-4191 or 800-559-4191 so we can assist you in maintaining a safe environment for you and your family.
If a power line falls on a car, you should stay inside the vehicle. This is the safest place to stay. Warn people not to touch the car or the line. Call or ask someone to call the local cooperative and emergency services.
The only circumstance in which you should consider leaving a car that is in contact with a downed power line is if the vehicle catches on fire. Open the door. Do not step out of the car. You may receive a shock. Instead, jump free of the car so that your body clears the vehicle before touching the ground. Once you clear the car, shuffle at least 50 feet away, with both feet on the ground.
As in all power line related emergencies, call for help immediately by dialing 911 or call your electric utility company's Service Center/Dispatch Office.
Do not try to help someone else from the car while you are standing on the ground.
Accidentally contacting a power line can be dangerous and in some cases, even deadly. Slope Electric Cooperative wants to help our members stay safe around power lines.
Keep a safe distance
Whether you are playing outdoors with your children or working on landscaping projects, keep a safe distance from power lines and other equipment your co-op uses to get electricity to your home.
Always remember to:
Stay away from power lines, meters, transformers and electrical boxes.
Don't climb trees near power lines.
Never fly kits, remote control airplanes or balloons near power lines.
If you get something stuck in a power line, call your Touchstone Energy co-op to get it.
Keep a safe distance from overhead power lines when working with ladders or installing objects such as antennas.
Never touch or go near a downed power line.
Don't touch anything that may be touching a downed wire, such as a car.
Keep children and pets away.
Look Up!
Overhead power lines carry thousands of volts of electricity. Accidental contact with one of these wires may result in serious injury or death. Almost all of these accidents can be avoided with a greater awareness for overhead power lines and by incorporating safe electrical practices during work or play. Always keep your tools, equipment, and yourself at least 10 feet from overhead power lines. Know the height of all equipment before attempting to move them under power lines. Completely lower equipment before transporting.
If you should come across a damaged line or utility pole, contact Slope Electric immediately at 579-4191 or 800-559-4191. Our line crews are trained to handle this emergency and will go to repair the line as soon as possible.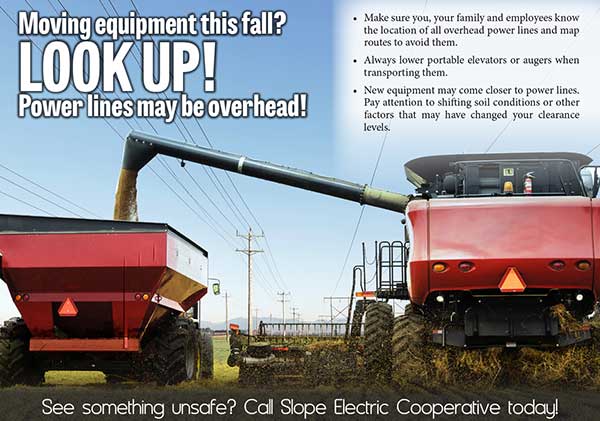 Your Family's Energy Guide