Electric Cooperative Youth Tour - June 20-26, 2020
High School Sophomores and Juniors... Write a winning essay and win a trip of a lifetime -- an all-expense-paid trip to Washington, D.C.!
The National Rural Electric Cooperative Association's Youth Tour to Washington, D.C. is set for June 20-26, 2020. Compose the winning essay and represent Slope Electric Cooperative as part of the North Dakota delegation.
What is the Government-in-Action Youth Tour?
Every June, as many as 1,800 high school students from across the country spend a week in the nation's capital as part of the National Rural Electric Cooperative Youth Tour. The students are sponsored by electric cooperatives – cooperatives that are committed to educating America's rural youth about America and the role electric cooperatives play in developing strong rural communities.
Participating in the Youth Tour is an awesome way to learn about this great nation, develop leadership skills, gain a better understanding of electric cooperatives, and make friendships that will last beyond the week.
---
Note: This page includes downloadable files that are in Adobe PDF format and require Adobe Acrobat Reader. You can download Acrobat Reader free of charge from Adobe's web site. This is a safe, fast and easy installation.
2020 Youth Tour
Essay contest guidelines for the Rural Electric Youth Tour:
You must be a sophomore or junior in high school.

You and your parents or guardian must be served by Slope Electric Cooperative, Inc.

The essay is not to exceed two standard 8.5" x 11" typewritten, double-spaced pages, on this topic:

"If chosen as a Youth Tour delegate, you will travel to Washington D.C. to experience and learn about America's rich history. What moment in American history do you wish you had been a part of and what would you have contributed?"

Submit an essay in hard copy or electronic format to Slope Electric. Electronic submissions should conform to the two-page, double-spaced guideline described above. Include a cover page with your name, date of birth, school and grade in 2019, parent or guardian's name, address and telephone number. 

Essays must arrive at Slope Electric no later than Thursday, January 31, 2020. E-mailed entries should be directed to LaWanna Wilhelm at lawannaw@slopeelectric.coop. Hard-copy entries should be mailed to: Youth Tour Essay Contest, Slope Electric Cooperative, P.O. Box 338, New England, ND 58647-0338.

Essays will be evaluated and the winner selected by impartial, qualified judges.

If you have any questions, please contact LaWanna Wilhelm at Slope Electric at the address above, or call (701) 579-4191 or (800) 559-4191 during regular business hours.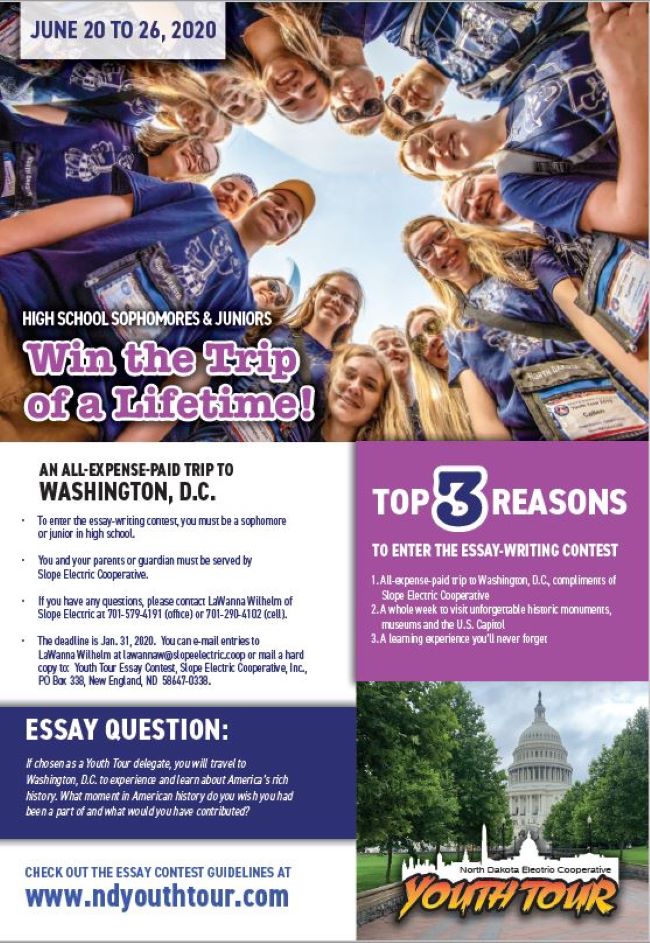 Slope's 2020 Youth Tour
Slope Electric Cooperative's 2020 Youth Tour